Amanda explains why the challenges marketers face in 2019 can create opportunities to lower their ad spend. You'll also discover how to sequence Facebook ads to reflect the customer journey.
What Is a Facebook Ad Sequence?
It's all about asking people for an email address or asking them to sign up for a discovery call in exchange for something of value so you can move them to the Close, or purchase consideration, phase.
Rather than jumping straight into lead generation ads, Amanda encourages people to think about overall brand goals and specific goals for each product and service they offer.
Then the next step is to create an ads sequence that reflects the behaviors of their prospects and customers.
Amanda uses the word sequence because the experience is built around what the customer, left to their own devices on your website or in your email series, will naturally do. It's a process of identifying how people engage with you organically and then serving ads that are triggered by that user behavior, which is where custom audiences come in.
Here's an example beginning with the Connect phase. Someone saw an episode of the Social Media Marketing Talk Show on Facebook on a Friday. They were busy so they only watched a few seconds, but wanted to remember to go back and watch it. And a segment of the audience might come back and find that video, but life happens, right?
Instead of hoping that person will remember to come back and watch, you amplify that live show with a Facebook ad that targets people who watched at least 10 seconds of the show.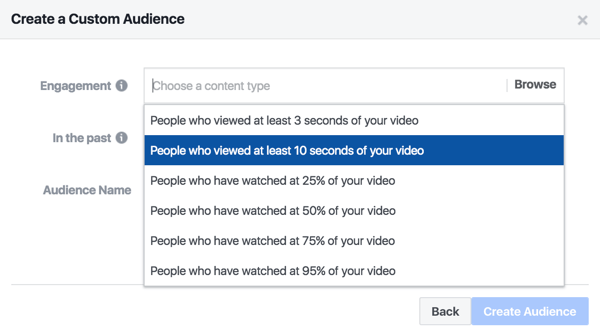 The ad encourages people to continue to watch on Facebook or uses some clips from the show to get people to view the companion blog post that covers it on the website.
You also retarget people who watched 95% of the show with a reminder for the next episode.
In the Commit phase, you move to acquire an email address in return for a free download of the annual Social Media Marketing Industry Report.
You then move people who opted to receive that download into the Close phase by retargeting them with videos that highlight different elements of Social Media Marketing World and inviting them to come hang out with you in person.
See the original post on SocialMediaExaminer